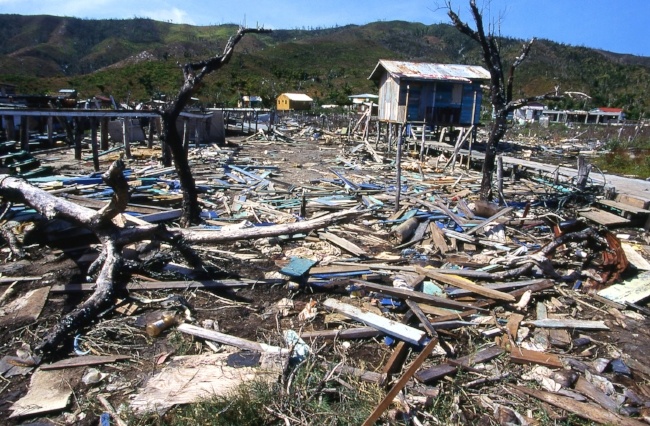 Although Hurricane Irma's damage in Haiti and the Dominican Republic is not as severe as the damage wrought by Hurricane Matthew in 2016, both countries have suffered enormous losses of crops, clean water, electricity, and housing.
Our missionaries in Haiti and the Dominican Republic are ready to do whatever it takes to assist those who have lost so much, but they cannot do so without your financial support, and your prayers. Will you hear the cry of the poor and respond with generosity?
Many of our brothers and sisters in these countries had barely begun to rebuild their lives following Hurricane Matthew, and are now back to square one, uncertain about whether or not they will be able to provide for their families in the coming months.
In the Dominican Republic, more than 24,000 people have been displaced, nearly 5,000 acres of crops were destroyed, and more than 100 houses were completely flattened.
In neighboring Haiti, the damage was even more severe: "This storm didn't even leave one tree with food on it for us to eat," said Artis Esperance, a 41-year-old Haitian farmer. "This has taken food out of the mouths of my children." He went on to say that although the damage from Irma is not as obvious as that of hurricane Matthew, "it doesn't mean that we haven't been left deeper in misery."
Mathieu Nabot, Action Against Hunger's country director for Haiti, says that the fact that Irma hit only a year after Matthew has made the situation more dire for Haitian farmers: "These small-scale farmers have no other source of income. If they lose their primary and only source of income, they are left with nothing."
Please prayerfully consider donating directly to Missionhurst; your gift will go where it is most needed, and the people of Haiti and the Dominican Republic will know the love of Christ in a concrete, tangible way through your generosity.
Heavenly Father, look down upon your people in Haiti and the Dominican Republic, who cry to you for aid in this dark hour. Inspire each of us with a generous heart, that we may give freely of our surplus, and even our need, so that our brothers and sisters may live.
In your name we pray. Amen.
We ask you to please prayerfully consider supporting our brothers and sisters in Haiti and the Dominican Republic during this tragic time.