This post was written by Fr. Anaclet Mukendi CICM, a Missionhurst missionary and native of Democratic Republic of Congo working in Port-au-Prince, Haiti. He joined Missionhurst in 2004, was ordained a priest in 2008, and was sent to Haiti in 2009. He is currently responsible for the Saint Jude clinic in Port-au-Prince.
The earth shook on Saturday morning, August 14, 2021, in Haiti as a magnitude 7.2 earthquake rattled much of the country. For more than 40 seconds, the earthquake ravaged three of Haiti's departments including Nippes, Grand-Anse, and the South, leaving behind fields of ruins and despair.
The Impact of the Earthquake
This disaster was even more violent than the earthquake of January 2010. It destroyed practically everything in its path—hospitals, hotels, churches, private business buildings, and houses. The death toll is increasing every day. As of September 14, more than 2,200 have been killed and there have been 6,900+ injuries according to a partial Civil Protection report. 130,000 houses have been destroyed and 46,913 more houses are damaged in Haiti's three most affected departments.
The three most affected areas have a population that represents about 16% of the total population of the country. The disaster has drastically impacted more than 75,000 families. 25 health facilities are located in the three most-affected areas, and they are struggling to accommodate the surge of medical needs. The seriously injured were taken to Port-au-Prince and the low and moderate injuries were treated by local professionals. Faced with the huge influx of wounded, the entire health system in these areas has been overwhelmed.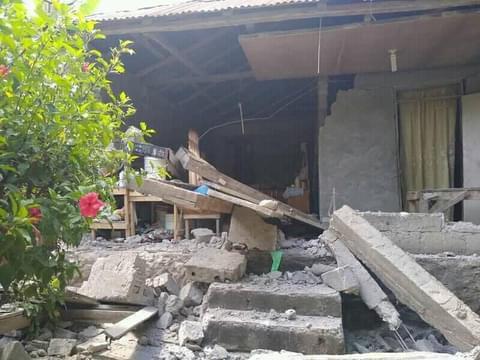 A week after the disaster, the government was still struggling to get aid to the victims. "As of this Monday, we will move more quickly. Aid management will be accelerated. We are going to increase our efforts to reach as many victims as possible in terms of assistance. The field presence of ministers and other government officials will be strengthened, with a view to better coordination of intervention and a gradual and more accurate assessment of the situation", the Haitian Prime Minister reassured on his Twitter account.
Escalating Tensions and Pressing Needs
Tensions on the ground are rising as aid trickles into the hardest-hit communities. The Haitian government is still seeking to increase the frequency of humanitarian convoys and strengthen security measures.
Despite the negotiation of a humanitarian corridor, access constraints and insecurity remain a major challenge for humanitarian partners in all sectors.
The most pressing needs are for medical attention and care for the wounded. Hospitals are overwhelmed by the heightened demand, piling atop the ongoing COVID-19 pandemic, and damages sustained to their buildings. Several have called for emergency reinforcement.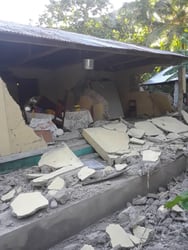 As in any natural disaster, people with disabilities, women, children, and the aging are the most likely to be negatively affected. From the previous experience, we are anticipating an enormous need for rehabilitation. There are thousands injured, and many of those injuries may worsen or turn into permanent disabilities. Beyond this, people have experienced significant trauma and will need psychosocial support in addition to basic needs like food, water, shelter, and items for personal hygiene.
Among the greatest needs, these are what our communities most urgently need: clean water, sanitation and hygiene products, food, rehabilitation of shelters, and medical first aid kits, Additional human and financial resources are needed to respond to the crisis, as organizations are overburdened by the response to multiple simultaneous crises in the country.
Want to Help Haiti? Here's What You Can Do
In an effort to bring relief, Fr. Anaclet is trying to collaborate with the local leaders and those spearheading relief in the field. Young people from the parishes are stepping in to assist nurses and parishioners are traveling to collect medical kits and bring them back to their communities.
Fr. Anaclet said, "This situation affects us bitterly, and as pastor, and asks of us to be close to our affected brothers and sisters through an act of generosity. Knowing that there are people of goodwill like you over there, we appeal to you and ask you to extend your generosity to us."
First, please pray for the people of Haiti, that they would be assured of God's presence during this difficult time, be comforted in their suffering, and that aid would come swiftly to help them.
Second, please donate to bring relief to our efforts on the ground. Missionhurst is accepting donations, which will go directly to help the victims with their immediate needs and as they rebuild. Please click here to make a donation. When prompted to answer "Where would you like your donation to go?" select "Other" and write in "Haiti Relief".
May God bless you for your prayers and generosity.
Bring relief directly to the people of Haiti, through the hands of our missionaries on the ground. Donate today.