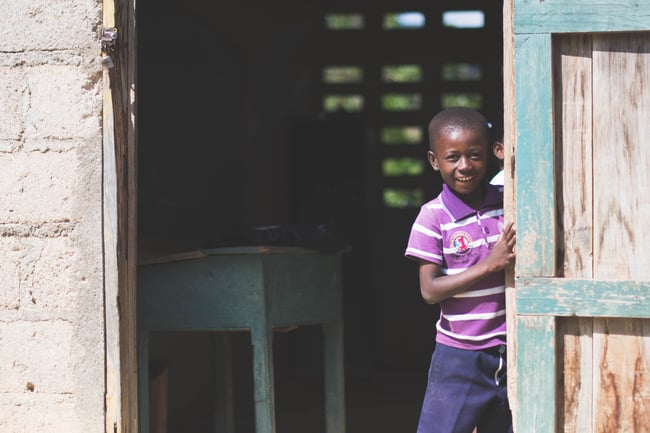 Then some children were brought to Him so that He might lay His hands on them and pray; and the disciples rebuked them. But Jesus said, "Let the children alone, and do not hinder them from coming to Me; for the kingdom of heaven belongs to such as these." (Matthew 19:13-14)
As Christians, most of us are aware of the Lord's particular love for the little ones among us: the poor, the orphans, the sick, the lonely. This Easter, we want to draw attention to the children that we serve, so that you may have the opportunity to love Jesus by loving his children, who, in their poverty and illness are often "Christ in distressing disguise," as St. Teresa of Calcutta famously said. Below are three ways you can love God's little ones and support the work of Missionhurst priests worldwide.
1. Pray for HIV/AIDS orphans in Zambia.
Zambia, along with most of Sub-Saharan Africa, suffers from incredibly high HIV/AIDS prevalence. To put things in perspective: The country's total population is 14.5 million, and one in every eight people lives with HIV — over 1.5 million people. The adult death toll from HIV/AIDS reaches tens of thousands every year, and there are orphanages full of children to prove it.
Missionhurst is committed to taking in some of these orphans and being family to them, though they have been robbed of their blood relations. Our home for orphans, "The Sunflower Family Center," is run by Fr. Pierre Ruquoy and accommodates ninety children.
Our hope is that this place would be not only a shelter for these children, but also a refuge of love and faith. Pray that these children will learn their worth as God's children and grow up with a firm foundation of trusting in His providence. Pray that continued aid from the government and the international community would end the devastating HIV/AIDS epidemic.
Will you pray an Our Father today for these children?
At that time the disciples came to Jesus and said, "Who then is greatest in the kingdom of heaven?" And He called a child to Himself and set him before them, and said, "Truly I say to you, unless you are converted and become like children, you will not enter the kingdom of heaven. "Whoever then humbles himself as this child, he is the greatest in the kingdom of heaven. "And whoever receives one such child in My name receives Me. (Matthew 18: 1-6)
2. Fund a child's education in Bois de Laurence, Haiti.
At our mission in Haiti, we educate children (who sometimes walk several hours each way to get to and from school) for $120 per student, per year. Catholic education is the only education for most Haitians, so when a family cannot pay for the tuition, they are left without options.
The best way you can help these students get access to education at St. Jean Bosco school is by sponsoring them. For $120 a year, you can make an enormous difference in a child's life.
If a $120 sponsorship isn't in your budget this year, prayerfully consider giving up one of your subscription services, like Netflix or Amazon Prime, which cost the same amount. While these services provide us with hours of entertainment, free shipping, increased physical fitness, or the freedom to create our own playlists, they can't change a person's life like a year of learning to read, write, add, and subtract can.
"See that you do not despise one of these little ones, for I say to you that their angels in heaven continually see the face of My Father who is in heaven." (Matthew 18:10)
3. Support mothers and babies in Guatemala.
In the developed world, we rarely worry about infant and maternal mortality rates due to our advanced medical care. In fact, in the US, the infant mortality rate (IMR) is currently 6.2 deaths per 1,000 live births. Contrast that number with Guatemala's IMR of 27.8, and you begin to see why our missionaries in Guatemala, especially Fr. Maxi Charitable Derisseau, are working tirelessly on the Bethany Maternal Child Center of San Benito Lachúa.
When the center is completed, Fr. Charitable and his volunteer staff will be able to provide medical care, love, and support to women and infants who currently have only two options: travel 125 km to the closest city (Coban) to receive medical care or stay in their villages and receive no help. Fr. Charitable envisions the center meeting the medical needs of women and infants from the surrounding twelve villages.
Please prayerfully consider loving these "little ones" by supporting the Bethany Maternal Child Center today.
"Truly I say to you, to the extent that you did it to one of these brothers of Mine, even the least of them, you did it to Me." (Matthew 25:40)
During this season of hope and joy, we invite you to join us in celebrating the resurrection of Christ with our devotional series.