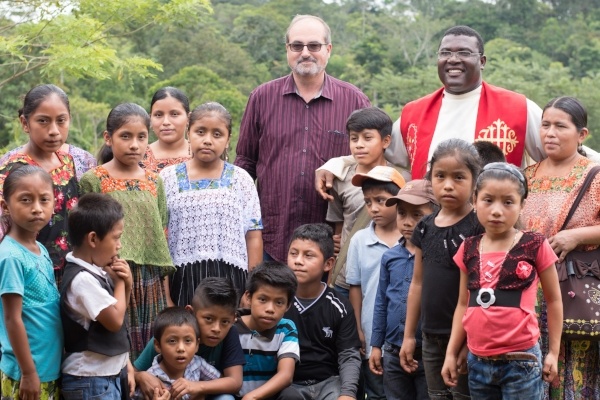 The beautiful Central American country of Guatemala is replete with colonial architecture, Mayan cultural influences, and the Catholic faith, but it is not an easy place to live for the majority of its citizens. Guatemala still suffers from the scars inflicted by its own civil war in the 1950s and 60s, in which the state army "unleashed a campaign of terror in which thousands of people were killed and entire villages were massacred." About 140,000 people died in the war; over 80% of them were of Mayan descent. Since then, there has been a return to democracy, but widespread poverty in Guatemala —both material and mental-emotional —persists, particularly among the indigenous population.
Not surprisingly, it is the children who suffer most from the current situation in Guatemala: approximately 50% of all children under 5 are chronically malnourished. Currently, this is the worst level of malnutrition in the Western Hemisphere.
Although there have been improvements in Guatemala in health care and education, there is still much work to be done, and other issues such as human and drug trafficking and violence are prevalent throughout the country.
The Work Missionhurst is Doing in Guatemala
Our missionaries are working hard in Guatemala to ensure we bring hope, love, and support to those who desperately need it. Below, you'll find a summary of our most important initiatives in Guatemala, all of which would greatly benefit from your generosity:
Feeding the Hungry:

Many of the families we serve in Guatemala cannot afford enough food to feed themselves each day. Our missionaries provide meals to those who would otherwise go without.
Improving the Bethany Center:

Our team is currently working on improving various projects at the Bethany Center including industrial kitchen supplies, water purification systems, and more.
Investing in the health and wellbeing of Guatemalan mothers and children:

The

Maternity and Infant Center in San Benito Lachua

is currently in need of funds for the salaries of three essential full-time positions: a doctor, a nurse, and a security guard. Without these personnel, Missionhurst cannot provide medical assistance to the many women and children in need in the area. Although the center is complete, it cannot be opened until funds are found to fill these positions.
Four Ways You Can Help
1. Fast
Although it might seem like a strange thing to do during the Easter season, fasting is meant to be a year-round practice for Christians, especially when we are praying for our brothers and sisters in Christ who suffer from material poverty. Consider giving up a snack, a meal, or a treat once a week and offering the sacrifice as a prayer for the Guatemalan families who eat at the Bethany Center's comedores (dining rooms) each day.
2. Pray
The greatest gift you can give to anyone is your prayers--and that includes prayer for those we never meet this side of heaven. Please pray for our missionaries in Guatemala — Fr. Maxi, Fr. Thomás, Fr. Felipe and their teams, that they may be able to provide the least of Christ's brothers and sisters in Guatemala with the love and care they need.
3. Give
Your financial gift, no matter how large or how small, will help us bring much needed food to families, materials for improvements to the Bethany Center, and medical care to the Guatemalan women and children we are serving!
4. Share
Do you have friends and family who are looking for opportunities to serve the poorest of the poor? Do you know people who would be uplifted and inspired by the work that Missionhurst is doing in Guatemala? Do you want to do your part to help spread the Gospel?
Consider sharing this post on social media, sending it in an email, or telling your friends and family in person about Missionhurst's work with the Bethany Center. It only takes a moment to touch the hearts of those around you and potentially make an impact on the families that need our support.
However you decide to help, know that, Fr. Maxi, Fr. Thomás, Fr. Felipe and their volunteer staff, and the individuals they serve are deeply grateful. We hope that you and your family have a joyous Easter season, filled with reminders of the hope of the Resurrection.
Fr. Maxi and the rest of our missionaries need help bringing change in Guatemala during this joyous season of hope. Get involved today!