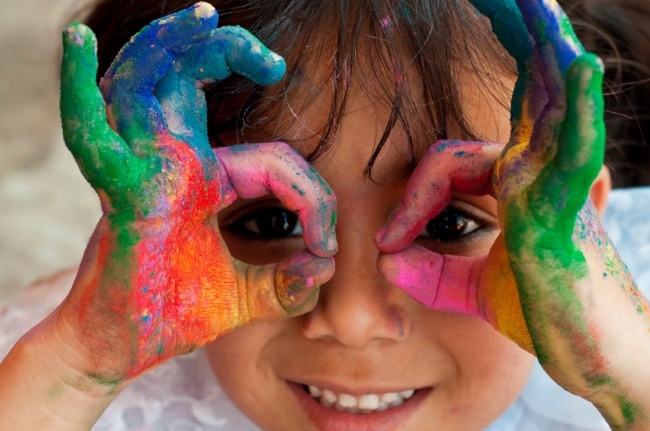 Our SLU-Sunflower Art Camp is a special project for children in need of special protection, which usually happens every other summer.
This summer, we joined 35 boys from four different institutions at the SLU-Sunflower on the Hill in the CICM Bukal ng Tipan, Maryhill Retreat Center. As always, the camp was a carnival of colors, happy faces, music, noise, sports activities, and so on. Together with the children were several SLU student volunteers, who are members of the SLU Center for Culture and Arts (CCA).
With all the intermingling of lives and experiences with the children, the Summer Art Camp has been a life-changing experience, not only for the children, but for everyone involved. Peejay Bengwasan, a psychotherapist from the Sunflower Children's Center shares his life experience of being part of the Summer Art Camp.
Internal turmoil
Eight years ago, I was going through a lot of internal turmoil. I thought I would never be able to get out of the hell I was in inside my mind.
It is a cliché to hear people saying how lucky you are for what you have and where you are, but being with a whole group of kids for a whole week gave me a whole new perspective on life, one that put all my worries and problems to shame.
An unexpected story
I was but a nursing student and a student performer then, coming into my first Summer Art Camp, not expecting anything but the responsibility of trying to teach different forms of art to street children and institutionalized boys.
I did not expect one of the kids who came to me sharing about how 2 days before joining the camp, he was rescued from his parents who often run after him with sticks and belts. Neither did I foresee the boy who was touched inappropriately by an older male, or the boy who was left behind in the marketplace because his parents could no longer feed him, or even the 13 year old boy who barely reached my waist in height due to severe malnutrition.
A life-changing experience
The whole experience changed me. I thought my life was set. That I would graduate and assume one of those jobs that was lucrative at that time, despite having a lot of reservations because I didn't believe my life was headed in a direction I wanted.
Many mistook me as a person who was merely trying to throw away a lot of things most people pined for. Indeed, I threw away a lot of things that could have given me a much brighter future than where I am today during that Summer Art Camp alone. I threw away the decisions people made for me and left behind all the little worries and stressful thoughts that entered my mind.
Each child that came to me feeling proud of the simple red paint dot he made on a piece of paper made me more appreciative of how simple life actually is. I learned to be more tolerant of kids and become more attentive to small details of their lives which were even more interesting than my own.
I tried as much to hold back the tide of emotions while rehearsing each artistic number and completing each art project with the kids. While they swallowed the food that my fellow facilitators and I have set in front of them, I was swallowing each emotion that came and went while interacting with those kids for almost 16 hours a day for a whole week. Every 'thank you', high five, hug or joke those kids threw at me reminded me of the value of simply recognizing others for their presence. Every heart-wrenching story made me more willing to listen and merely be with kids who need a lot of things that I could offer.
Experiencing a transformation
At that point, I was transformed. I arrived home with a clearer picture of myself. I thought I was there to teach, but the whole experience actually made me a student, with raw emotions and human experience as the teachers. The Summer Art Camp basically paved the way for me to be a psychologist, which combined my passion for the Arts and humanity together with the goal of making others' lives more worthwhile.
Entering this year's Summer Art Camp, I was drained, not only because there were a lot of obstacles I had to go through but because I have come full circle, from being a facilitator, to a camp master, and now handling most of the preparations while simultaneously teaching visual arts. My mind was forcing me to quit, but what got me through were my previous experiences that ignited me and the support from this whole new set of people who continue to rise above the stress and body pains.
It took me a long time to reminisce, but this is my Summer Art Camp Story. I thank my co-facilitators from all the past years and especially this year and I hope that you had the same transformative experience I had.
Looking for a way to liven up your prayer time? Sign up for our 18-day devotional and join us in praying for our missionaries around the world.