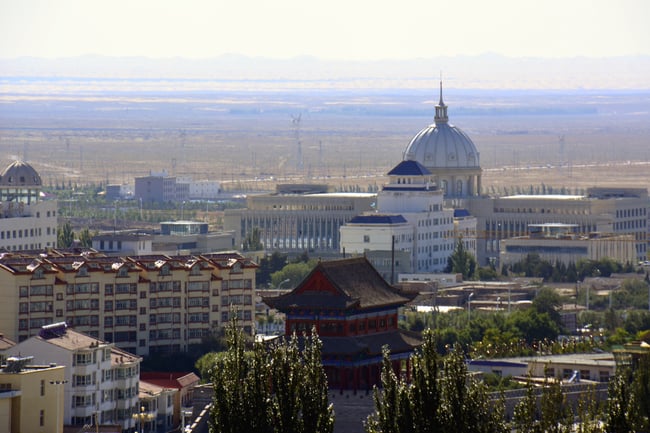 The Church in Mongolia may be young, but her charitable efforts are making a powerful impact on the lives of Mongolians, especially those who are suffering due to the recent Zuds, the severe winters in which large numbers of livestock die due to extreme cold and starvation (they are unable to find food under the snow). Considering that one-third of the Mongolian population depends entirely on farming for its livelihood, these Zuds are causing economic crises, food security issues, and a mass rural exodus.
Today, the capital city of Ulaanbaatar is overwhelmed due to the surge in its population, and new forms of poverty are cropping up every day.
The Mongolian government is trying to tackle the issues of migration, poor living conditions, and sustainable employment in the countryside, but its resources are limited. Not only that, but as this natural disaster is unique to Mongolia, it is also unknown to many in the international community.
Thus, pursuing its evangelic mission as the social arm of the Apostolic Prefecture of Ulaanbaatar, Caritas Mongolia (CM) is doing everything it can to express solidarity with people in need, especially to those most vulnerable. Through its commitment to going where other NGOs and even governmental organizations dare not go, CM strikes to live out the Christian faith by making God's love for His people visible.
Recently, several teams from Caritas Mongolia met with Provincial Governors in the areas of the country most impacted by the Zuds. In these meetings, it became clear that direct material assistance to the farmers and herders themselves was most needed, so the volunteers at the CM Skills Training Center made 4,200 animal winter coats and gloves to distribute among the herders who were most affected by the harsh weather. Thanks to the coordination of the CM staff, the most vulnerable 180 herders were provided with winter coats, which prevented animals from perishing in the severe cold.
After receiving funds from Caritas' partners, our staff was able to reach out to and assist 523 households in four different regions of Mongolia. These families received food (flour, rice, cooking oil) and "vet packages" (hay, feed, dry milk, and winter coats for the animals).
While CM is happy about the assistance that was provided to these families, we know that the needs are still there and continue to grow. Many families can still be helped! And even though the contributions from donors were less than expected, Caritas Mongolia was able to be among the few active NGOs, acting immediately and reaching out to a good number of affected families living in difficult conditions. The response of Caritas is much appreciated by the Mongolian government for being pro-active and the first to be present in difficult areas (many places were hard to access because of the ongoing heavy snowfall).
The main lesson here is that despite its small visibility and Public Relations compared to some other well known I/NGOs, Caritas Mongolia was able to be efficient and effective in the areas of action. CM was the only organization teaming up with local authorities, state institutions, and different beneficiaries for better planning and selection of herders to be assisted. It is thanks to its Catholic identity that Caritas Mongolia was able to bring comfort to the most vulnerable families. The love of Jesus became reality throughout these actions.
May we keep all the people of Mongolia in our prayers!
Join us on a meditative journey this Easter season by downloading our devotional series.