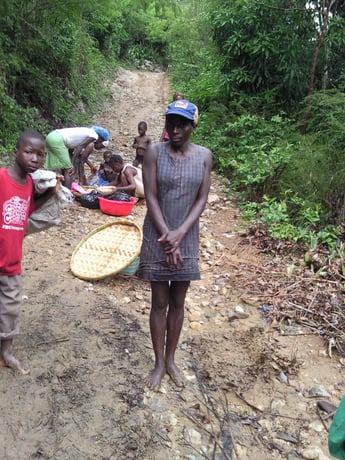 After my theological studies in Cameroon were complete, I began my missionary internship in Haiti. And upon finishing my study of the Creole language, I was assigned to Saints Jude and Simon parish in Port-au-Prince for my first pastoral experience.
Just one year later I was asked to move to the mountains to join father Augustin Tshibangu, CICM. Fr. Augustin was working alone at Saint Roc parish, in Grosse Roche, diocese of Fort Liberté in northeastern Haiti. Saint Roc is one of three parishes in the mountains that CICM works in.
This move from the capital city to the countryside was a very shocking experience for me. There was no running water, no electricity at the rectory, and no road at all. The only travel route to the place was a small pathway traversed by people with their animals.
My first night was full of nightmares! However, as the days passed on, I grew accustomed to my new milieu, and even began to wish that I would be able to stay there following my ordination to the priesthood. But fate had decided otherwise.
After my ordination I was asked to administer to Notre Dame de la Délivrance parish and its school, in Mombin Crochu: a neighboring parish and in the same diocese as Saint Roc. Notre Dame de la Délivrance parish is comprised of eight communities, among which only three are accessible by car or motorcycle. The school welcomes more than a thousand pupils each year.
Mombin Crochu, like Grosse Roche, is a mountainous area. Ninety percent of the population subsists through agricultural endeavors. The common crops are beans, peanuts, rice, corn, cassava, and various fruits. The rainy season here is impressive. During this time people are busily tending to planting and cultivating, and they are on the move a lot. The parish activities cannot function normally at this time, as everyone's focus is on sowing today in order to provide for their families tomorrow.
When it is harvest time, the products are divided into three parts: one part is set aside as food for the family, another amount is to be taken to market and sold, and another portion is saved to propagate the next planting cycle. Each town has its own set days for open market trade – in Mombin Crochu it is Wednesdays and Saturdays.
The schedule is non-negotiable; neither rain nor blistering sun can prevent people from attending the market activities.
Most of the merchants are women. They typically walk two or three hours carrying their products on their heads or on the back of a donkey, cow, etc. If the rain is too harsh on a Sunday people may stay home from Mass, and likewise on a different weekday students may stay home from school. But Wednesday and Saturday are critically important days in the lives of these people, and many from surrounding villages even schedule their business with city hall or the parish office around their trips to Mombin Crochu on these days.
Haitian people everywhere are still dealing with the aftermath of the 2010 earthquake, a massive cholera outbreak, and gasoline scarcity throughout the country.
The farmer-merchants of our region also had special challenges to overcome in the 2011 growing season. The arid period was lengthy, and everything was dried out. Those who planted ahead of the first rainfall were in danger of losing what they had sown. Indeed there were many difficulties, but still they hoped and, finally in May, the first rains came.
It was around this same time that I discovered I had not stored up enough gasoline. A friend of mine from the nearest big city (Hinche, some three hours from Mombin Crochu) called to inform me that I could get some gasoline there if I wished. So the following morning I set out to go for the gasoline and also take care of some grocery shopping.
Around 1pm while still in Hinche I received a call from the rectory cook, telling me that the atmosphere was not good; there might be a very strong rain on the way. I had to rush to avoid being caught in the storm along the way. I did get nervous, knowing how the wet conditions make driving so dangerous in this region. Mud becomes treacherous and puddles turn quickly into rivers.
Notwithstanding the situation, I dared to go back to Mombin Crochu.
With two parishioners aboard I was driving as fast as I safely could, hoping to reach home before the rains.
Along the way I saw the sky become dark and a short while after, the first strikes of lightning and claps of thunder. Oh my goodness! Not even halfway there it started raining– an abundant rain.
People were naturally quite happy to welcome their savior, the rain. It meant the beginning of their daily agricultural activities and rewards. On one hand I was also happy to see that people would go back to their farming routine; but on the other hand, I was anxious about the dangers awaiting me ahead. As we pressed on though, we successfully traversed all the bad puddles and crossed the small muddy rivers.
But the last and worst river, called "Lospinite," was still ahead.
This is the biggest one. Rising water nearly always makes this one too difficult to cross. People often have to wait for more than four hours before it will go down enough to get a vehicle across.
For those who would dare to cross it by foot, it is normally at least waist high after hard rain. But neither kids nor adults typically dare, because the water current is very strong and can easily carry anyone away.
As I was getting nearer to "Lospinite," just a few meters away I heard the rapid water sounds accompanied with a very loud cry of distress: "Anwen eeeeh, Anwen eeeeh!" (Help! Help!). I parked the car at some distance because I could already see the river from afar, and there was no way to cross. My passengers and I rushed to the river edge. Once there we saw that both sides of the river were crowded with merchants coming from the market – it was a Wednesday. I recognized most of the traders because they were my parishioners. Everyone appeared to be in a state of amazement, so I asked what was going on.
That's when we learned that Madame Helene Paul had been taken away by the water current while trying to cross the river.
The water so swiftly carried her that no one dared to attempt a rescue. Upon hearing that I wanted to go downstream, hoping to at least locate her body. But the people did not want me to: "Father– don't risk it, she is already gone!" Yet in spite of their shouts I felt I needed to try.
As I moved into the water, my companions followed me. We had only gone a few meters downstream when one of the companions pointed out a figure fighting against the water. It was indeed Madame Helene Paul.
When we got to her we saw that her clothes had been snagged by a tree root, keeping her from tumbling further down stream. We were able to bring her ashore and administer some first aid. When the crowd saw me carrying Madame Helene on my shoulders, they thought she was already dead. But once I put her down they started clapping and expressing their joy as they looked over their revived colleague.
Once calm was restored and Madame Helene recovered a bit, I did ask why she had not waited like the others. With a low trembling and a sobbing voice she looked me straight in the eyes and said: "Father, I am both father and mother to my children– I am everything for them. I was rushing to get home because the place where I live is a marshy area, and most of the time it is flooded by such rain. My kids are left alone; they are exposed to any risk.
This revelation went straight to my heart. Madame Helene has three children; her husband left with no warning three years ago. In order to survive, she had to try to make a living with agriculture. She borrowed one thousand gourdes (22 $ US) from the local cooperative, to which she has to render 10% of her weekly income in repayment. This accident had just cost her all her commodities, the little money earned from the market, and even a cousin's borrowed horse (which had not survived the river).
We had to wait almost six hours before the water went down enough to safely cross the river. In that time, merchants collected a few things from amongst themselves to help Madame Helene have food for her children that night.
Some days later, I shared this experience with some women of the "Caritas Mutuality" parish and they, moved by the agonizing incident, quickly organized a fund providing Madame Helen with 2,500 gourdes (70 $ US) so that she could revive her economic activities.
She was so grateful! Madame Helene thanked me wholeheartedly: "Father thank you very much for your kindness, and for what you have done for me and my children."
And in response we thanked God together for putting the seed of love, generosity and solidarity in the hearts of all involved. God is surely pleased to see His children's compassion and joyful sharing.