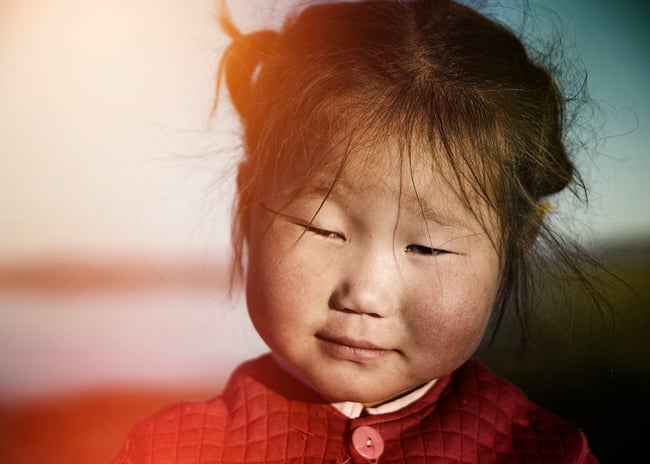 Somebody once asked me how many loaves and fish did Jesus multiply. I failed the "test".
I could only defend myself by arguing that what matters about the multiplication of loaves is not the numbers, but the lesson Jesus intended to give. And, definitely, it was not a mathematic lesson on "multiplication," anyway!
Indeed, of what value would it be to memorize the numbers, if one would not live out what Jesus meant to teach! Gathering together what many people have, so that each and every one may benefit from that combined reality would be one lesson to be drawn from the miracle of the multiplication of loaves.
I think this is one thing we missionaries are – or can be – good at.
We collect little from many people, and at the end it makes a packaged good enough to help the needy. This came to my mind more clearly when I found myself in an unexpected and improvised fundraising in Erdenet.
Erdenet is the 3rd largest city in Mongolia. Missionhurst has been present here since 2002.
We serve the people though preschool education at My Home Kindergarten (known here as MHK) where I have been the supervisor since September 2012.
Here we are not yet involved in pastoral work. However, an "underground church" is developing slowly.
Narantsetseg, the hopeless homeless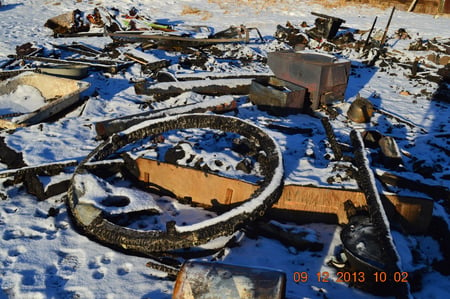 It was Monday, December 9, 2013. Before 9 am I was still settling in the office in MHK when one of the teachers came to tell me that 3 ladies from the "Parents' Association" wanted to see me. I wondered what they would have to tell me this early in the morning and how could they have known that I was around?
I had just arrived late in the evening of the previous day.
I was right to be wondering. It was an urgent matter: one of the parents, Narantsetseg, had become homeless. Help was needed.
Narantsetseg is a young and single mother with 2 children: a 7-year old boy, and a 4-year old girl who attend our kindergarten. Narantsetseg works as a cleaner in a small dispensary. She earns less than $200 USD per month, against which she had already taken a loan from the bank.
Her yurt (traditional Mongolian House) had burned down few days prior to this encounter. Misfortunes never come singly! Good luck or bad, nobody was around during the incident. It happened during daytime and the children were in school.
Upon arriving at the scene, Narantsetseg, thirty-seven years old, could not figure out how she would start a new life. She fainted and went into a quite critical state.
These 3 ladies wanted me to help. At least $1,500 USD is needed to purchase a new yurt. At this time of the year (December), even the money that CICM-Mongolia Community allotted for such cases was already spent. In other words, I had no idea how I could help. But could I just tell them that I have no money – however true it was?
I had to gather my courage and convince myself it was possible to help. I went to the site of the burnt yurt, took photos, then dashed off to the hospital. Narantsetseg had suffered a mild stroke. She was lying in bed, visibly desperate and miserable.
I looked at the medical prescription. It was a long list. She could not afford to buy all the medicine. I was pretty sure one medicine was lacking in the prescription list, one that would give Narantsetseg much-needed hope: a yurt. But how can I find one?
The improvised fundraising
I took photos of Narantsetseg lying in her hospital bed. I encouraged her, assuring her things will be fine. I had the feeling that if only someone could provide a new yurt for her, she would probably recover faster than any combination of medicines alone could do.
As soon as I got back to the kindergarten, I made some phone calls, asking friends to help. I posted the photos on Facebook, explaining that we needed to help this lady, and the poor children. I emphasized that, in this freezing winter, even if one would shelter them for a while, proper clothing was also badly needed.
I received a few nasty feedbacks on my Facebook page, because some people thought I would use this opportunity to proselytize the desperate Naraantsetseg. But still many people responded positively – even people I had never met personally before.
In one week's time I managed to gather clothes, shoes, soaps, cooking pots, a rice cook, etc., and raised about $1,500 USD cash. This helped buy a brand new yurt set, thanks to many friends, confreres, some Facebook contacts, and the tiny catholic community of Erdenet.
As we were setting the yurt up in the freezing weather of mid-December, I forgot about the cold. The thought of setting a stable and a manger for the child Jesus invaded my thoughts. And that filled me with joy. I could not imagine any better Christmas gift I ever gave to anyone…
This is Mongolia
Apart from the extreme weather for which Mongolia is well known, most people might have heard about its booming economy. This image is spreading so fast and so far that people from outside might not imagine the situation depicted here is still possible.
More often than not, in such a rising economy, the gap between rich and poor would be getting wider and wider, and how much more in a country that has only recently (2 decades ago) shifted from socialism to a liberal economy. Yet there still remains a wide range of victims in Mongolia. The truth is that Narantsetseg is only one of such many desperate people.
This is the kind of people – not so well know from the outside – that we deal with in our day-to-day life, be it in the capital city or in Erdenet city.
The start of a beginning?
Believe it or not, Narantsetseg's health started improving when her yurt was set. Now she is happy with her 2 children. She is grateful to all who helped her through my little effort. Unfortunately or fortunately, this gesture made many people aware that I can be of help to the needy. Requests have become frequent. Helping Narantsetseg became like the start of a beginning.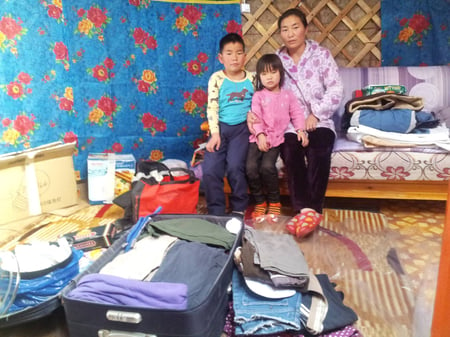 Since this experience, I have received many requests – pertinent ones indeed. Just as Jesus' disciples reacted, I would like to send the crowds away, so they can go to the Red Cross, to the social security office, etc.
But I can hear the Lord telling me "give them something to eat yourselves". I should "feed" them, instead of sending them away…
Interested in learning about partnering with Missionhurst as a monthly sponsor? Check out our Sponsor's Handbook!