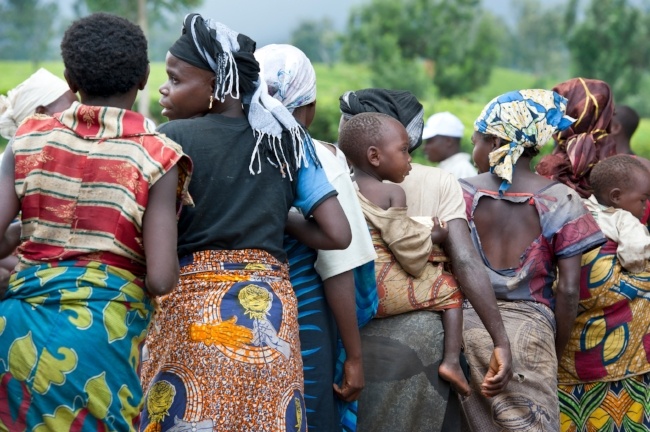 (This story was originally used as an appeal to our incredible supporters)
In Kinshasa, the capital city of the Democratic Republic of the Congo, gangs and gang "warfare" are plentiful.
In the local dialect there this is known as "Kuluna": acts of violent banditry. Bands of young men wait in hiding for some local citizen to walk by who has some indication of "wealth" (shiny watch, wad of banknotes showing in pockets, jewelry of some sort glistening), then they surprise-attack them brandishing knives or machetes and demand that the person give over the goods or money. If any resistance shows itself, serious injury to the victim can take place.
Our missionaries working in the midst of this darkness along with some adult members of the Our Lady of Fatima Parish want to burst through this darkness in whatever way they can.
They want to work to equip the youth of their local community with appropriate tools to help them face with hope and true realism the kinds of constraints and challenges they face.
This will instill in the youth a dynamic and life-style of conversion and transformation. In short, they want to provide training and formation that is a clear alternative to the lure of the Kuluna culture that is prevalent in their neighborhoods.
In Kinshasa as well as in most large cities where rich and poor live side by side, it is common during summer vacation time for the wealthy to travel abroad and the more destitute to be consigned to remain behind without employment opportunities. This, of course, creates a very dangerous "boredom" situation for youth.
Father Theophile Nlandu, CICM, Pastor of Our Lady of Fatima Parish, has a plan to gather together 280 young people from the streets of Kinshasa during the summer months.
In doing this, he'd like to offer them a wholesome alternative to gang activity which can provide training and formation for a life of responsibility, diligence, and a hopeful future.
His plans are to make use of the parish's multipurpose room with a capacity of 300 seats to offer training courses to 280 youth. He has a carefully-planned budget of $23,350 U.S. to cover such things as facilities costs,
food and refreshments, bus transportation to/from the site, modest speaker stipends, tuition assistance, promotion and communication, leader training, formation materials, and the like. This translates to approximately $83 per youth participant for a summer-long program that not only will keep the 280 registrants off of the streets and out of gangs, but will ensure that they are making ideal use of their usually "boring" summer!
What you can do to help the youth of Kinshasa
If 280 generous Missionhurst partners like you and me were to each give $83 each in support of this cause, Father Theophile's pastoral plan could be launched on schedule! But more importantly, if each of us considers God's call to join the Risen Christ in bursting through the darkness of our world in this way at this time, I have no doubt that, with whatever gift each of us can give, that this budget can be funded. Christ's light will be able to shine in one of the darker places in the world: in the streets of Kinshasa that are replete with violent gangs.
Let's each prayerfully decide how we could participate in dispelling the darkness that engulfs so many young people in the streets of Kinshasa. Let us pray: "Risen Savior, set us -- and them – free!"
United in faith, prayer and action,
Fr. Randy Gonzales

Will you make a small donation to help support our missionaries?