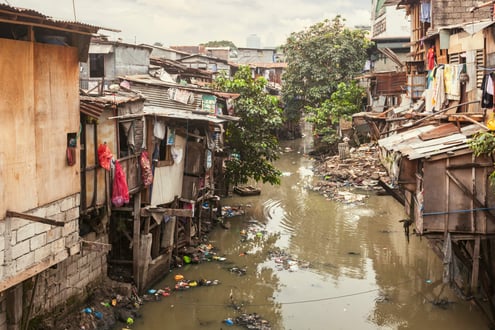 As we reflect on our world today, our minds and hearts can't help but turn toward the suffering of Our Lord. Examining our own lives, we turn even more to the Lord in prayer and attempt to root out the selfishness and lukewarmness that keeps us from loving our Lord with abundant joy and generosity.
It is also important during this time to turn our minds and hearts toward our brothers and sisters in Christ, especially those suffering in conditions of poverty. They suffer alongside Christ in tangible ways, experiencing the pain, poverty, and rejection that He faced in his time on earth.
Instead of thinking abstractly or in remote terms about those who are suffering, let's take a direct look at some of the tragic and challenging struggles faced by our Guatemalan brothers and sisters.
Shocking Facts and Statistics About Life in Guatemala
This country has the largest population and the largest economy in Central America. Yet, due to high levels of income inequality, wealth is concentrated in the hands of the politically and socially powerful, while the rest of the country, particularly rural and indigenous populations, live in extreme poverty in Guatemala.
More than half the country lives below the poverty line.


The political system runs on corruption and bribery.


Nearly 20% of the population is completely illiterate.


It has the 5th highest homicide rate in the world.


1 in 2 Guatemalan children suffer from chronic malnutrition.


Nearly 400 tons of cocaine moves through the country annually, spreading violence and addiction.


Many rural areas cannot access potable water and only 5% of wastewater is ever treated.


There are over 370,000 orphaned children, many living on the streets.
The Biggest Challenge of Living in Guatemala
While the dire living conditions many rural Guatemalans face are both shocking and saddening, perhaps the most pressing need Guatemalans are facing right now is a food crisis.
50% of Guatemalan children will face chronic malnutrition between the ages of 0-5 and will suffer permanent, long-term physical consequences from the lack of proper nutrition. At the Bethany Center, we are striving to change that outcome. Each meal we serve costs just 15 cents and (pre-COVID) our soup kitchens were feeding 250 children, ages 4-14, daily.

Because these families can no longer come to the soup kitchen, we are on a mission to bring food to them and fill their plates.
How to Help People in Guatemala
When we face these statistics and understand the suffering, it deepens the power of our compassion and our prayer. Facing these challenges calls us to prayerful action. We are facing a humanitarian crisis in Guatemala, and we need your support as we work to bring peace and hope to these communities.
Here are two ways you can offer tangible help: prayer and financial support.
Pray for Guatemala
In these challenging times, let us lift up the people of Guatemala through this special prayer and ask the Lord for renewed peace, love, and protection over those suffering.

Join us on a nine-day prayer journey for our brothers and sisters in Guatemala. Each day's prayer will focus on a specific issue that Guatemalans are facing right now.

Sponsor a Family in Need
The Bethany Center in Guatemala is a ministry that serves the poorest of the poor, particularly women and children, in Guatemala. The center is collectively made up of four locations, including a central urban location, the infant and maternity center, and two rural soup kitchens.
Prior to the pandemic, many families in Guatemala struggled with acute poverty. Over the last several months their situation has become even more desperate. They lack the basic necessities to feed their children — simply rice, beans, corn, and cooking oil.
The Bethany Center is responding to this food crisis, but we need your help.
A gift of $60 will feed a whole family for a month. Can you share the blessings God has given you and sponsor a family in need?