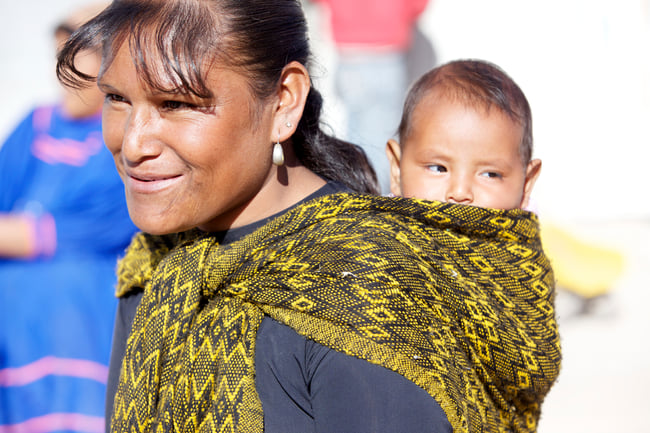 The parish of Saint James the Apostle is located in Temalacatzingo: a small, marginalized and very poor village. The majority of the people here meet their basic needs through their work on the land and through the production of handmade articles.
Due to the lack of work here, the majority of young people are forced to travel up to the Mexican-American border, in search of economic opportunity. The alternative––remaining in the countryside––only exposes them to the realities of unemployment, delinquency, drug abuse and alcoholism, and other common issues surrounding poverty.
I would estimate that one third to half of our population has two or more family members in the US, and those family members are typically supporting their loved ones with what they send home.
As many of us can guess, these young people do not enjoy an easy trip up North. The journey is full of risks and, when they get to the other side, they usually lack the legal documents required and are exposed to deportation at any given time.
Most of the immigrants are men; the women, though unemployed, typically stay behind to attempt to run the home. Inevitably, some of the men do not return home, and the women are abandoned with as many as 3 or 4 children. The situation for these women then becomes a nightmare.
Our missionaries see a special call to support the women who are left alone
There is a great need for accompaniment with these families. That's why Missionhurst's Catholic missionaries see a special call to support the women who are left alone to raise their families. It begins with recognizing the importance and the needs of the women who stay behind when their counterparts decide to cross the northern border.
They are indeed the most vulnerable segment of our parish community, so we initiated a council for these young ladies in an effort not just to give them fish, but to teach them how to fish.
Human and Christian formation
As missionaries, our first duty in the parish is to evangelize. Christian formation is a core objective in any gathering or group that we are forming. Therefore, we look first to our root mission when we want to serve the people who are in need or when we endeavor to work for change.
The council for women that we formed meets every Sunday to share the contents of the Gospel and other Bible readings. A religious Sister and a married woman who is a parish leader work with me to prepare the reflections and content of our sessions.
Beyond the Christian formation aspect, our meetings also entail presentations on topics of concern by invited lecturers or guides, and they serve as planning sessions for the group's small fundraising activities.
So far we have been able to organize food sales on feast days and hold raffles and the like to fund the group's objectives. This council of young women brings together some 25 to 30 members who, in turn, contribute to the parish life through their volunteer participation in several church operations.
In addition to the women's group, we have also established youth councils. These groups gather local boys and girls weekly in the various communities of the parish. While their sessions are also based in Christian formation, we have developed additional themes geared at reflecting on the general situation for women and families in their respective communities.
These council meetings help our area youth to gain a better understanding of their situation; we hope this formation will prepare them for some of the complexities that lie ahead. They too are an integral part of parish life, and they take part in supporting several church functions.
If you give me a fish, I will be hungry again tomorrow. But if you teach me how to fish, I will never be hungry again.
Guided by this well-known principle of pastoral ministry, we have initiated a workshop for the community: it is a sewing and dressmaking center called "Workshop of the Immaculate Heart of Mary."
This workshop provides young women with the opportunity to learn and perform various aspects of sewing work, from cutting the material to operating the machines, following a design pattern, etc. This initiative was begun in order to promote a very basic but practical skill to the abandoned women, single mothers, and young women of the parish.
We expect that, over time, the skills they gain will enable these women to provide for their loved ones: through making clothing for their families and even producing small market wares or perhaps by becoming a paid seamstress.
Eventually, as a long-range goal, we would like to raise the funds to provide individuals with sewing machines that they can utilize at home, working on their own and for themselves.
Jesus said that we will always have the poor among us.
We are keenly aware that we cannot relieve all the needs and the poverty of the people. Thus, we simply want to lend a hand in the building of a more humane world: valuing the natural capacities of each human being.
We believe in human potential, and the promotion of people through service to society and the coming of the Kingdom. Great strides and hope are made possible through small actions such as forming support groups and creating workshops. The support from our generous Missionhurst benefactors enables us to continue developing these small actions.
Thank you for continuing to entrust us to help others learn to fish.
Interested in learning about partnering with Missionhurst as a monthly sponsor? Check out our Sponsor's Handook!