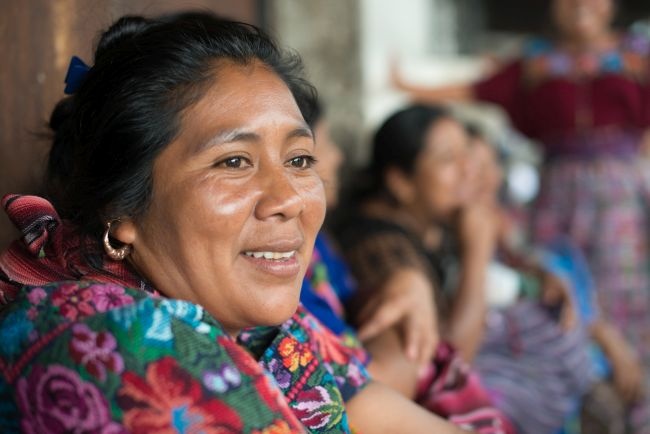 While Americans are the only ones who will be celebrating Thanksgiving this Thursday, as Catholics we celebrate an even more profound "thanksgiving" (eucharistia in Greek) each time we attend Mass, whether we're in Grand Rapids or Guatemala.
At Mass, we offer our hearts, minds, souls, and lives to Christ in thanksgiving for all that he has done for us, and we are called to respond to this love through our generosity of heart to others. Here are three ways you can thank the Lord this Thanksgiving by supporting the women and children at our mission in Guatemala:
1. Pray for the newborns and their mothers
Committing to pray for Guatemalan women might seem like the easy way out, but the reality is that the Lord works powerfully through our prayers; prayer is one of the most important ways that he allows us to cooperate with him in providing for the needs of our brothers and sisters. This Thanksgiving, consider going to a morning Mass and offer your communion for the women who will benefit from the completion of the Bethany Maternal Child Center of San Benito Lachúa.
If you'll be up at the crack of dawn cooking for relatives and won't have time to go to Mass, another great option is a post-Thanksgiving dinner rosary. We recommend meditating on the Joyful Mysteries, as they focus on the conception, birth, and early childhood of Jesus. However you choose to lift your heart to the Lord on their behalf, know that your prayers do make a difference to our sisters in Guatemala.
2. Give to help provide the necessary health care
for new moms
'Tis the season for charitable giving, and we know it can feel overwhelming to see all of the impassioned pleas for financial help on Facebook, Twitter, and in the mail. If you're reading this post, chances are you're already a supporter of Missionhurst's efforts and know that a little goes a long way in the poor communities where we serve.
Our modest goal of $3,000 is all Fr. Charitable needs to finish construction on the Bethany Maternal Child Center, and your gift--no matter how large or how small--will help us bring much needed medical care to Guatemalan women and children.
3. Share this campaign with your family and friends
Do you have friends and family who are looking for opportunities to give this holiday season? Do you know people who would be uplifted and inspired by the work that Missionhurst is doing in Guatemala? Do you want to do your part to help spread the Gospel?
Consider sharing this post on social media, sending it an email, or even calling up Grandma and telling her about the Bethany Maternal Child Center. It only takes a moment, and the impact of your willingness to share could have an incalculable effect on the lives of the women and children under Fr. Charitable's care.
However you decide to help, know that Fr. Charitable, his volunteer staff, and the women and children he serves are deeply grateful. We hope that you and your family have a blessed Thanksgiving, mindful of the many untold blessings that the Lord has bestowed on all of us.
Will you help us reach our goal of $3,000 by Tuesday? Every dollar counts!