While the global response to COVID-19 has been uniform in some ways (increased hand washing, sanitation, and precautionary measures), every nation and community has had its own unique challenges to face.
At the St. Jude hospital clinic in Port-au-Prince, Haiti, poverty has gripped many people and the local parishes are struggling to help. Father Anaclet Mukendi, CICM is the pastor at St. Jude, the parish associated with the clinic. The following are excerpts taken from one of the recent update letters he sent to our community:
There Is Growing Despair Among the People of Haiti
From North to South, from East to West, there is weeping and grinding of teeth. COVID-19 has killed hundreds of thousands of people and continues to cause despair in the hearts of men and women. Many have remained inconsolable by the unexpected death of a loved one. Some have seen their businesses go bankrupt due to the announcement of a state of a health emergency, confinement, and other measures preventing the exercise of economic operations.
While some developed countries are complaining about unemployment, many third-world countries like Haiti have seen a severe spike in poverty rates as the struggles to survive the pandemic spread like the plague.
Based on previous experiences, including the 7.0 magnitude earthquake in 2010 and the cholera outbreak that followed some months after, the public health system in Haiti is not equipped to battle a pandemic of this magnitude. While the public hospitals in Haiti receive a large number of patients daily, they are operating with low funding and inadequate medical equipment. They are currently in an unstable situation and are not ready to diagnose individuals with COVID-19 as they do not have enough testing kits.
How Missionhurst Is Stepping Up to Help Alleviate Suffering
This pandemic leaves behind a wake of sickness and uncompromising poverty. To respond to this situation, our parish clinic is striving to do more, by continuing to see patients in the clinic, giving masks to patients who come for consultations, and reaching out to our parishioners in new ways.
We continue to take care of the sick in our community and are taking extra precautions due to COVID-19. Before entering the clinic yard, there is a bucket of water so patients can wash their hands. Their temperature is taken to make sure they are not presenting COVID-19 symptoms, as we do not specialize in diagnosing and treating COVID-19. If someone shows COVID-19 symptoms, they are referred to the appropriate hospital for proper examination and treatment.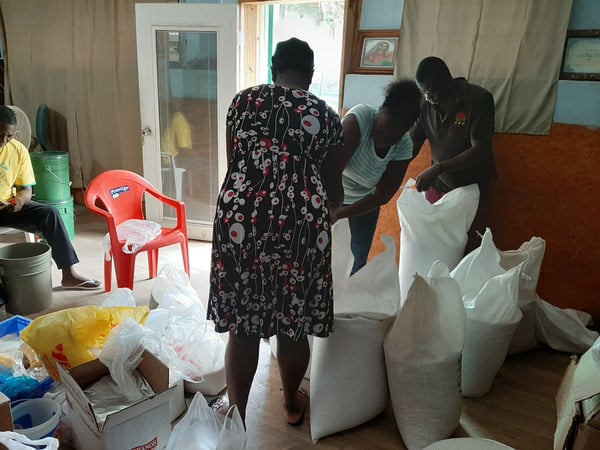 Father Anaclet Mukendi and some members from the Parish Pastoral Council making food kits to be distributed to the most disadvantaged in the parish during COVID-19.
Stories from Life Around the Parish During COVID-19
At the parish level, we try to extend our help to the most disadvantaged by providing them with kits that contain a bucket with an attached faucet, rice, beans, spaghetti, hot dogs, and a few other items. It is not nearly enough, but it can relieve a little of their suffering. While distributing these kits, I met an 80-year old woman named Eglantine. She has nowhere to stay, so right now she is living in the basement of our church. When I met her she had not eaten in a few days. She was so surprised when I offered her a relief kit. She cried out — "Father, after God in Heaven, you are my God here on earth".
I asked her why she made such a statement and she answered: ''Since this issue of Coronavirus came out, no one has extended generosity to me as you have done." I simply replied, "let us thank God for his love for us."
To stay connected with our parishioners during this time of confinement, we send them messages with the Sunday readings and a small homily through WhatsApp or messenger. This allows them to meditate and pray at home as a family. Although we cannot meet in person, we frequently make phone calls to maintain our unity and closeness with one another.
Support Our Missionaries this Summer — Give to the Appeal
COVID-19 has changed everyone's plans and forced us to cancel many highly anticipated events. Normally we would go around the country during our annual Parish Summer Mission Appeals, telling the stories of our missionaries and raising support for their work. However, in an effort to keep everyone safe, we canceled our trips and are bringing the appeal right to you.
We need to raise $300,000 over the next year to replace the funds lost in our annual budget due to the canceled Mission Appeals. If you are able, we invite you to support our COVID-19 Recovery Fund. Not only will you help us continue our established mission projects, but you will also help us meet rising emergency relief needs due to COVID-19.
The people of Haiti, and all the other missions in which we serve, thank you for your generosity and support. May God bless you!
Learn more about the COVID-19 Recovery Fund and what you can do to help support the vital mission work happening around the world.