Over the past several months our world has experienced significant collective pain and suffering as we navigate the COVID-19 pandemic and injustices everywhere are brought to light. It can be a difficult and seemingly hopeless experience turning on the news every morning, only to find that a new tragedy has occurred — striking deep in our already raw and wounded hearts.
At times like these, it is important to step back and do two things: first, lean into prayer and action. We cannot solve all the problems in the world, but we can turn to the one who holds the whole world in his hands. We can pray for healing for our broken world and guidance as to where the Lord is asking us to act.
Second, we must remain hopeful. God the Father has never abandoned his children and in this time we need to remind ourselves of his providence and hold onto hope. In the spirit of this hope, we wanted to share with you a beautiful story of hope and healing from one of our projects — the Sunflower Center in the Philippines.
The Sunflower Center is a multi-faceted mission in the heart of the Philippines that offers therapeutic healing and other needed resources to children who have suffered traumatic, life-altering abuse and neglect. One of the children who has been helped by the staff at the Sunflower Center is Johnny*, and this is his story of unthinkable suffering that ultimately ends in restoration and hope.
*Johnny's name has been changed to respect his identity.
Found on the Streets with No Name and No Birth Certificate: Johnny's Story
While working in Manila, the capital city of the Philippines, Father Geraldo Costa came across a young boy named Johnny. At only 5-years-old, Johnny was wandering the streets of the Philippines, alone. Johnny's parents were not looking for him, they had abandoned him and left him to fend for himself.
Johnny had no identification, no paperwork, nothing to tell Fr. Costa and the team of social workers and psychotherapists at the Sunflower Center about who he was or about his past. The little Johnny was able to share about his past was full of trauma and abuse, culminating in his parents abandoning him in the streets.
Fr. Costa and his team took Johnny in and begun the process of psychotherapeutic healing. They also gave Johnny a new home in the Sunflower Center's residential boys' home. Over the course of several years and many therapeutic counseling sessions, Johnny experienced a great deal of healing and restoration.
Listen to Fr. Costa tell Johnny's
whole story by clicking below!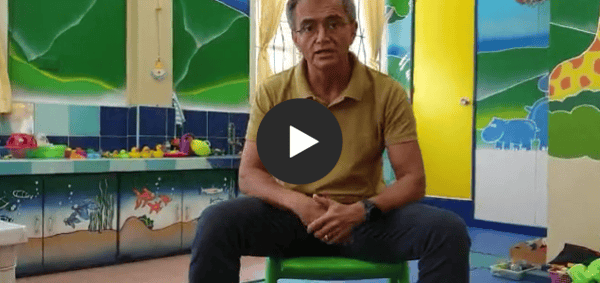 From Childhood Trauma and Forced Labor to Hope
Unfortunately, Johnny's challenges did not end there. Johnny's trauma led him to drug abuse and further cycles of abuse. At 16-years-old Johnny wanted to get his high school education, so he left the Sunflower residential center and began working, living, and studying at a school. After several years of no contact, Johnny reached out to Fr. Costa in a cry for help.
The director of the school was using Johnny for child labor, not feeding him or paying him for his work at the school. When the school director felt that Johnny was not making good grades or performing well in his job he would not feed him. Johnny would sometimes go days without food, enslaved in this horrible situation.
With the help of local authorities, Fr. Costa and his team were able to rescue Johnny and set him up in the Sunflower Center Halfway Home. Johnny was able to earn his high school diploma and move on to his college education.
Today, Johnny is 19-years-old and hopes to finish his college degree and join the Filipino military. Johnny frequently comes back to the Sunflower Center to volunteer and give back to the community that has helped him so much.
The Sunflower Center Needs Your Help
There are so many other children in the Philippines that, like Johnny, need the help and healing that the Sunflower Center can provide. Would you prayerfully consider supporting our work through your prayers and actions? When you lift up our mission through prayer, advocacy, and financial support our missionaries, therapists, and social workers are able to reach out to more Filipino children who, just like Johnny, are trapped in cycles of abuse, neglect, and trauma.
We invite you to learn more about our mission and how you can sponsor a child's healing by visiting our project page. Together, we can bring hope to the lives of these suffering children, and through them, bring hope to a world that desperately needs it.
When you donate to the Sunflower Center, your support allows us to reach and save more children like Johnny.