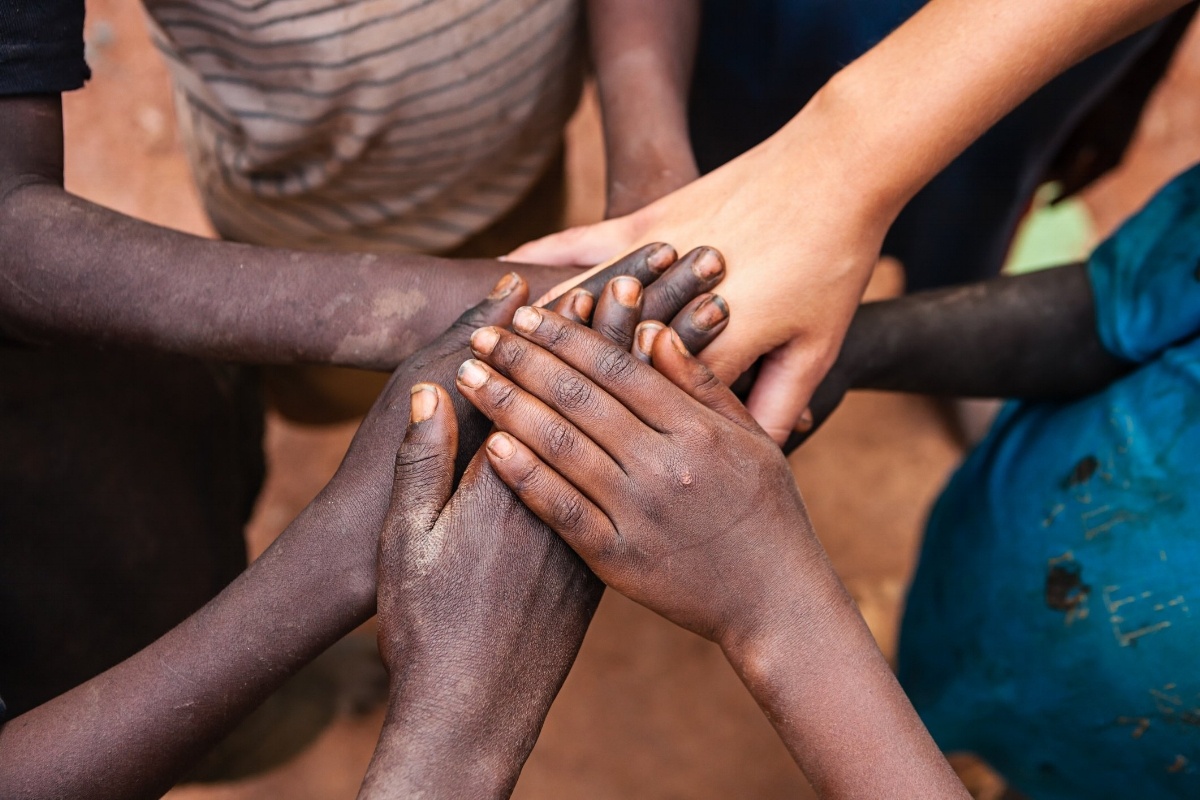 Gratitude is a buzzword on social media this time of year, and while it's always worthwhile to count our blessings, for a Christian, gratitude must go farther. The greatest act of gratitude to God for the gifts we've been given is to share them with our brothers and sisters in need.
This year, we invite you to prayerfully consider making a financial gift to one of the following four missions where our priests are in need of resources to serve the people of God.
Caring for Children in Zambia
Our primary work in Zambia consists of providing care for children who are orphaned due to HIV/AIDS. The Sunflower Family Center, founded in 2007 by Fr. Pierre Ruquoy, now serves over 100 orphans and other children who do not have access to basic needs such as food, clean water, clothing, and health care.
Our priests also work to provide education for children who may not be orphans, but who—due to the high poverty levels in Zambia—otherwise would not have access to quality education.
Loving the Marginalized in the Philippines
Our work in the Philippines focuses on three groups that are easily neglected and forgotten: abandoned children, the deaf, and people suffering from leprosy.
Children, specifically boys who have been abandoned and are living on the streets, are a top priority in our mission in the Philippines. Fr. Gerardo Costa founded a Half-Way Home for Boys to help reintegrate abandoned boys back into society, as well as to provide material help to some of their families, who may feel that they must abandon children in order to survive.
We also have priests who work with the underserved deaf population in the country, providing them opportunities for education and community that were previously lacking.
Our missionary efforts also include service and care to the local leper colony in the Philippines. The burden of enormous stigma and the lack of resources available to this marginalized group makes the support of our priests and brothers especially important.
Offering Hope to the Poor in Guatemala
Guatemala is one of the most difficult places to live in poverty and an extraordinary number of Guatemalans are suffering. More than half of the country lives below the poverty line.
Missionhurst priests and brothers have made supporting families in poverty their top priority in Guatemala. That means running centers like the Bethany Center network where families can come to get a good meal, get basic medical care, find a social and spiritual community, and learn basic skills to help them support themselves better.
That's also why Missionhurst priest Fr. Maxi Charitable Derisseau founded the Bethany Maternal Child Center. The Bethany Center provides not only pre and postnatal health care for pregnant women and their children, it also houses cafeterias for 120 poor children and helps those children pay for education.
Ministering to Prisoners in the Congo
Unlike the three missions above, our mission in The Congo is oriented primarily to adult male prisoners who are languishing in the country's corrupt prison system. Not only do our priests offer clothing, medical care, counseling, catechesis, and the Sacraments to these men, they also work to provide the money for legal counsel so that the men who have been unjustly accused can be reunited with their families.
The goal of the prison ministry is to reintegrate the incarcerated back into society, and to be a source of consolation and hope to both those imprisoned and their families as we work to reform the justice system in the Congo.
Offer Your Own Gift in Gratitude This #GivingTuesday
This #GivingTuesday, we invite you to make a financial gift to one of our missions as a sign of your gratitude to the Father for all that he has given you. In giving to the least of our brothers and sisters, we draw nearer to Christ, whose birth we will soon celebrate, and nearer to His body on earth.
We are so grateful for the love, financial support, and prayers that you have offered over the years to support the important work of our priests and brothers in the field. The call to serve those less privileged is at the heart of the Christian life, and your support helps us answer and live out our missionary call.
Want to offer your support this #GivingTuesday? Check out our full Giving Tuesday page to learn more about these missions and the people they serve!