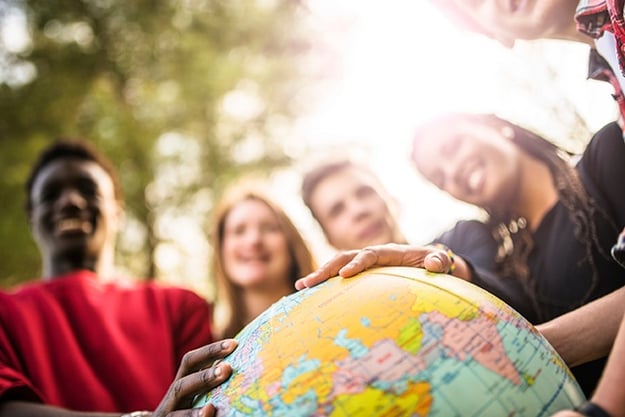 Does reading about our work ever stir your heart or move you to do something? Don't feel helpless. You can participate in our ministry by reaching people we don't know- your own friends and family.
1. Share our content on your social networks
"Declare his glory among the nations, his marvelous works among all the peoples" - Psalm 96:3
We proclaim Christ's message of hope to people in the cities and villages where we live and work. We invite you to proclaim that same message to your own communities.
By sharing our content on your various social media networks, you introduce our work to a new audience of people. Our goal is to make more people aware of the work that our devoted missionaries are doing all over the world, in hopes that more people will feel called to join in prayer and financial support to help advocate for the people in need whom we serve and accompany.
We see God doing "marvelous works" through our missionaries in Zambia, Brazil, Mongolia, and all our other missions locations. Declare God's glory to the world by posting our stories.
2. Email information about our sponsorship program to a friend or family member
"For they gave according to their means, as I can testify, and beyond their means, of their own free will, begging us earnestly for the favor of taking part in the relief of the saints" - 2 Corinthians 8:3-4
Mission work is like a stool upheld by three legs- prayers, finance, and action. Our missionaries act out the work of God's mission. But we need the prayer and financial support of other Christians to continue. Anyone who joins in prayer or gives money to our missions is "taking part in the relief of the saints."
The pledges we receive on a monthly recurring basis enable our missionaries across the globe to sustain and grow their missions. One of the best ways to affect change in the areas that our missionaries work is to personally spread the word about our sponsorship program. Send a personal message to your friends and family about why you think our efforts are worthwhile. Give them the opportunity to answer God's call to generosity.
3. Invite your friends and family members to subscribe to our blog
"For as in one body we have many members, and the members do not all have the same function, so we, though many, are one body in Christ, and individually members one of another." - Romans 12:4-5
One powerful way to introduce our mission to a friend is to invite them to subscribe to our blog, Sent: A Blog of Catholic Missionaries. Our posts, particularly those that tell stories directly from the mission field, really inspire people.
Whether it's earthquake victims in Japan or impoverished families in Senegal, the same Lord is bringing justice and mercy to His people.Though our missionaries may be halfway around the world from our blog readers, both are unified in the body of Christ.
The blog is a reminder that we all belong to the family of God- and families stay in touch. Subscribing to the blog will connect your friends to their spiritual brothers and sisters around the world.
Please know that we appreciate whatever effort you put into spreading the word about our work. Every post, every conversation, every dollar, and every prayer have the potential to bear fruit. Partner with us to share the good news about God's work in the world!
Interested in learning about partnering with Missionhurst as a monthly sponsor? Check out our Sponsor's Handbook!