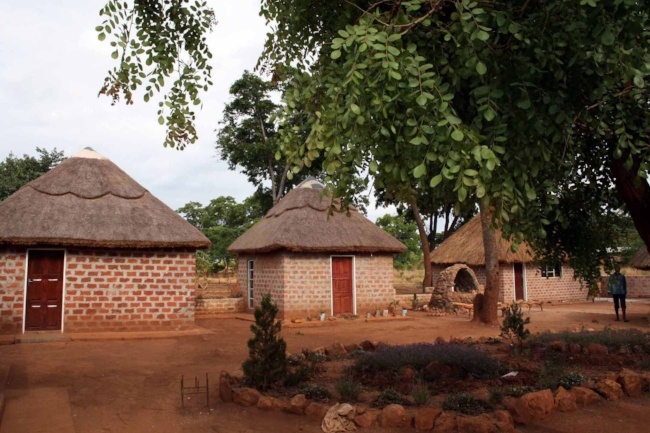 Go therefore and make disciples of all nations, baptizing them in the name of the Father and of the Son and of the Holy Spirit, and teaching them to obey everything that I have commanded you. And remember, I am with you always, to the end of the age. (Matthew 28:19-20)
Jesus' Great Commission as recounted in Matthew's Gospel is one that our Missionhurst priests and brothers strive to live every day, in some of the poorest and most forgotten parts of the world. Fr. Pierre Ruquoy, Fr. Wilfreddo Sabarillo, and Fr. Peter Koh are three such priests, serving the least among us in Zambia.
Fr. Pierre Ruqoy
Fr. Pierre Ruquoy works at the Sunflower Family Center, where he ministers to the orphan children in Zambia who live there, as well as those from the local community who benefit from the services provided by the Center. Fr. Pierre says, "Our goal, our mission, is to turn what could have been a life of permanent tragedy into a life of hope and dignity. And I can tell you from personal experience – working with these children each day – that this is precisely what is happening. The joy and hope in their faces is sometimes more than I can absorb!"
Fr. Pierre tells the story of Daliso, one of the original five boys who lived at the Center, who died of HIV/AIDS after a long battle with the disease. At Daliso's funeral, Fr. Pierre shared a moving conversation he had with Daliso, whom he considered a spiritual son:

"I was speaking with him about death, and trying to prepare him. I said to him:
Daliso, do you know that one day I will die? And that you also will die one day?'
The child was looking at me with his big black eyes for a moment. And then he said to me:
'This is not true! You will not die, and I will not die: when people love one another, they do not die!'
And truly we believe God is love and life! Wherever love is shining, there is no death."
If you're interested in hearing more about Fr. Pierre and his ministry at The Sunflower Family Center visit our website.
Fr. Wilfreddo "Pops" Sabarillo
Fr. Wilfreddo "Pops" Sabarillo is currently working on the outskirts of Mulungushi, in a diocese that is only four years old, at St. Monica's parish. He regularly takes his adult parishioners to clinics and hospitals to help them get the medical care they need. This sometimes involves driving for hours a day, only to return to his parishioners in order to say Mass, hear confessions, and give pastoral counsel. Thanks to the breadth of his ministry, Fr. Wilfreddo knows what it is like to experience both birth and death in a single day:

"One time I was saying Mass and afterward a woman came up to me and said, 'Father, can you help me? My granddaughter has been in labor since 6 AM.' I was looking at my watch and it was already 5:15 in the afternoon! So, I brought the girl--she was maybe 15 years old-- to the hospital and went home to sleep. I'd only been in bed for an hour when another woman came to tell me that her daughter, who had HIV, had died in the night. I helped her find a coffin, transport her daughter's body, and planned the funeral. That's our job--not only giving the Sacraments but helping people with many other things. Later, I found out that the other girl gave birth to a healthy child and was back in the village. It's quite rewarding to see that."
Fr. Peter Koh
Fr. Peter Koh is currently living and working in Rome as Treasurer General of CICM. In the 1990s, he started St. Monica, a school for poor children who would otherwise be spending their days on the streets or working in the fields. The school continues to function to this day. School children and their families were not the only ones to benefit from Fr. Koh's work. He has impacted the lives of many others throughout his time in Zambia.
A few years ago, Fr. Koh had the opportunity to return to his parish in Zambia to see how the families he once served were faring.
"They shared with me how their lives had changed since I left them in 2004. Mr. Banda was one such visitor. He asked me if I remembered him and indeed I did, and still do. He was my parish secretary."
Fr. Koh goes on to recount how Mr. Banda lost his job in 2000, the same year that Father founded his parish.
"I noticed that he was very good at welding and whenever welding had to be done at the parish I called on him for help. One day I asked him why he did not try to get a job as a welder. He said that he did not have the necessary certificate to qualify him to work as a welder. I suggested that he take a test at the town's trade school to get a skills certificate, but he replied that he did not have the money to register for the test."
Fr. Koh was able to get financial aid for Mr. Banda, who was able to take the skills test, get his welding certificate, and support his family through his new trade. Today, he owns a successful welding workshop. "I was so happy to find that the little seed of support given to him helped him grow and blossom into a strong and independent 'tree'."

We hope you are encouraged and inspired by the work our priests are doing in Zambia. Please consider supporting them, either materially or spiritually, as your generosity is essential to the flourishing of our mission. As Fr. Wilfreddo reminds us, "The support that comes from you is not for us missionaries, it is for the people who are in dire need. It is encouraging for the people to know that there are people out there who care about them enough to help educate them, provide them with healthcare, etc. Your support truly helps them to realize their humanity."
Join Missionhurst this year and help provide support and prayer to the men, women, and children of Zambia.