In the Dominican Republic, the very poor "company towns" made up of Haitian migrant sugarcane workers and their families, are called bateyes. The barracks in the bateyes house migrant workers who harvest (or used to harvest) sugarcane; they are usually wooden slat, cinderblock, and corrugated tin shanties. There is no running water, no latrine, little electricity, and no basic infrastructure (roads, sewers, etc.).
The bateyes were erected in the sugarcane fields, far from "regular" Dominican life. Life there consists of struggling for basic human needs, such as: health care, clean water, food and education. It is a difficult life and there are many social problems in this milieu. Though it may seem that choosing to work and live in this manner is unsavory, many of the workers and families prefer life here in the bateyes to the harsh socio-economic conditions and difficulties faced in Haiti.
Many here are actually the descendants of migrant workers who never left decades ago.
The People of Los Robles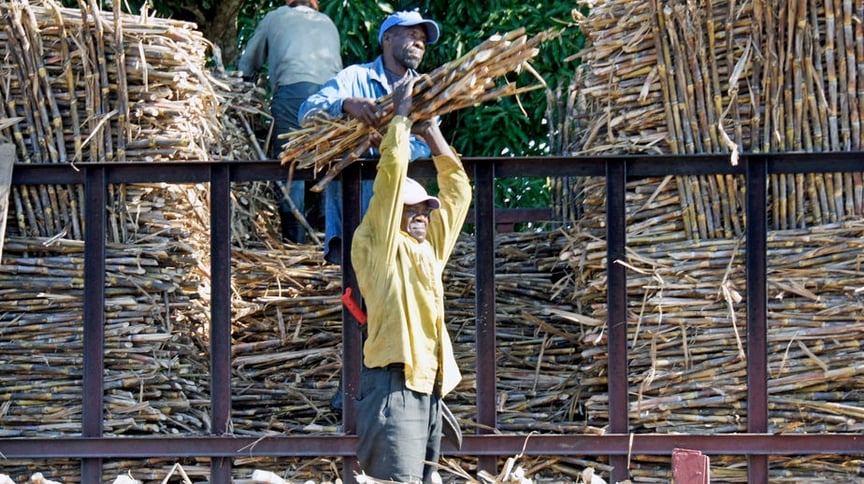 The village of Los Robles—a name meaning "the oaks" or "strong people"—is an all but forgotten, extremely poor community. This batey is just one of the more than 400-500 shantytown work camps in the Dominican Republic. It was originally erected to house migrant sugarcane cutters from Port-au-Prince, the capital of Haiti. There are about 600 families there. More than 3,000 of the people that reside in Los Robles are from 2nd and 3rd generation families, descended from the migrant workers who originally came to the Dominican Republic in the late '50s. So today, 90% of the population of Los Robles is of Haitian descent.
Though born and living in the Dominican Republic, they are not recognized as citizens. Lacking Dominican citizenship and undocumented by the government, they have limited-to-no access to social services, including education and medical care. Because the Constitution of the Dominican Republic does not extend citizenship to children born to irregular Haitian immigrant parents, the children born in the Dominican Republic do not have birth certificates or identification papers of any kind. Officially, they do not "exist," and they have no rights.
Needless to say, life in the bateyes is not easy. People live in horribly substandard conditions. The working conditions are extreme—sun up to sun down, six days a week—and many of the things we call necessities are almost nonexistent. To add to their isolation, the only access to many of the bateyes is by primitive roads that become mud-filled and impassible when it rains, cutting whole communities off from the outside world for days at a time.
Struggles Within the Batey Communities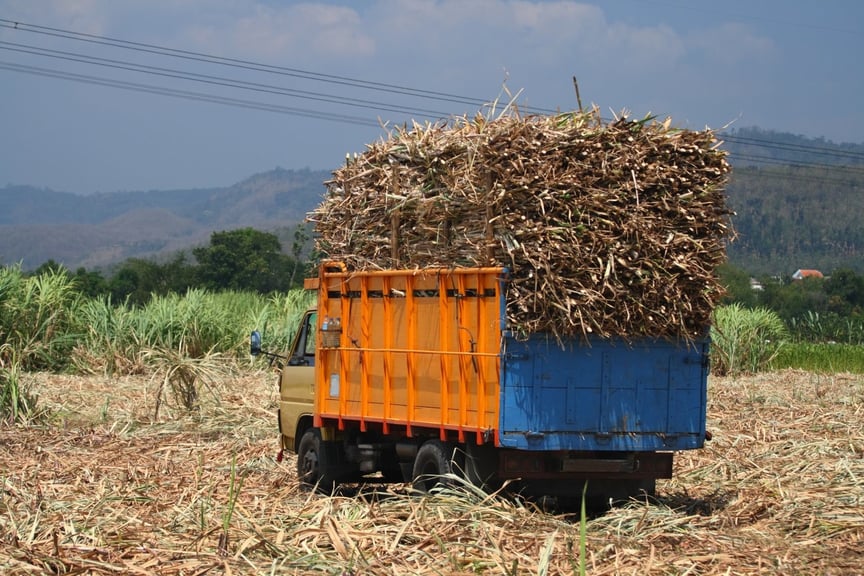 As mentioned, the bateyes originated as work camps for sugarcane laborers: working the cane fields was how the migrants made their living.
But today, the sugarcane industry is not as much of an economic force as it once was in the Dominican Republic. That, coupled with the machinization of harvesting methods, has left large groups of people in the bateyes without work. Some families have access to small pieces of land, where they sow a few crops such as plantains, bananas, and cassava. However, the sugar company owns most of this land and if they should endeavor to reclaim it from the people, there would be no recourse for the residents.
Batey residents live in a very precarious situation—one in which even their meager efforts to subsist can be toppled without warning or remedy.
The batey communities also deal with a lot of violence. Perhaps it is because of the constant struggle to survive, and frustrations due to the extreme poverty and marginalization they have experienced for so many years. Women, children and the elderly are especially vulnerable, due to their lack of a means for survival.
Compounding this situation is the fact that girls in the bateyes often become pregnant at an early age, lured into sex by the promise of favors or something as little as a bite to eat. This cycle of poverty, unplanned pregnancies, uneducated mothers, and unemployed fathers who are not able to provide for their families, leaves little hope for the people of the bateyes.
Finding Hope in a Place of Darkness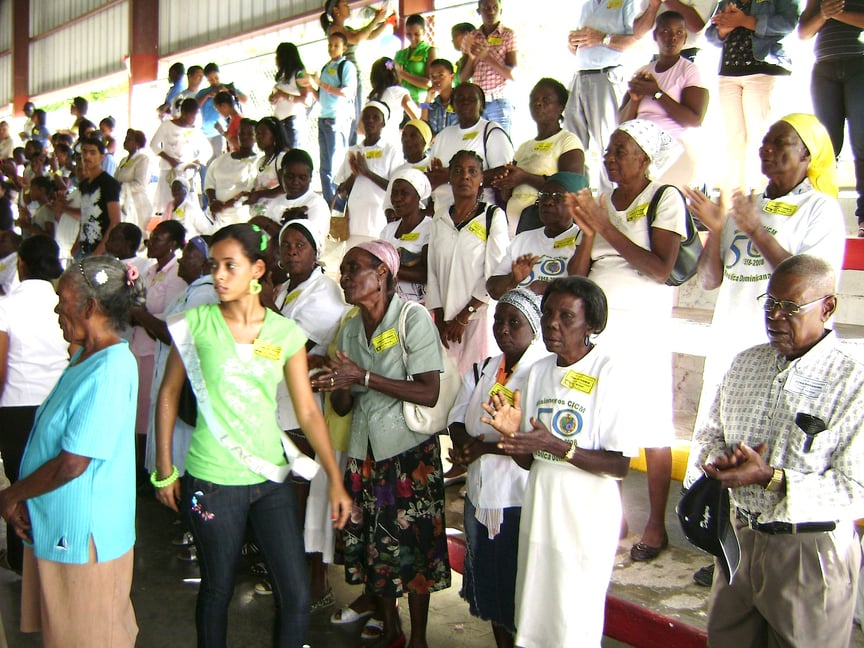 In an atmosphere of abject poverty, the essential springboard for change is hope: a belief that mentalities and social behaviors can completely change, and that ordinary people can be the ones to achieve that change.
To that end, we have initiated several efforts to involve the region's basic Christian communities. In the diocese of Barahona, we organized a formation program centered on the dioceses' First Evangelization Plan. There were fifty-two missionaries and residents present for our initial meeting, where we decided on general goals and discussed the significance of the Kerygma (Greek term referring to what is proclaimed—initial Gospel proclamation, to introduce a person to Christ).
We also reviewed various methods of evangelization and witnessing, and formed several groups to study four key passages from the Acts of the Apostles, which narrate the apostles' proclamation of the Good News. On a weekend in late May, we organized two days of reflection and meditation centered on human dignity, and on the first theme of the Kerygma: "God is love—God loves you." There were 65 participants/animators from the various bateyes of our parish. The dignity and courage of our basic Christian communities is to be admired.
In our parish, St. Martin de Porres in Batey 5, we are undertaking a new pastoral program. It is focusing on many aspects of social change through Evangelization: the meaning of co-responsibility, analysis of reality, Bible study, current events in relative missionary endeavors, the animation and strengthening of the basic ecclesial communities, group dynamics, forming catechists and youth leaders to organize the catechesis for children and the youth, participation in the pastoral meetings on the zone and diocesan levels, and many more.
Also, the basic ecclesial communities meet with various community leaders to provide training, education, spiritual encouragement, and resources in legal and social work, aimed at empowering community members to collaborate with one another to raise their children and reach their goals of self-sustainability. Our faith celebrations, along with the grace of God, also provide enthusiasm for the new Evangelization.
The basic ecclesial communities from many bateyes continue to gather regularly, creating encounters to benefit their communities' goals for life and work. We have very strong leaders who work in the social apostolate, in evangelization/mission, justice and the struggle for legal documentation, and human rights and infrastructure.
The Power of Faith
In the midst of the real difficulties and challenges they face in life, the basic ecclesial communities of the bateyes are proud to proclaim their faith. They put their hope in Christ. We thank you for your generous and continued support of our missionary activities here in St. Martin de Porres parish. May God bless you and your apostolate with abundant grace. Life is hard in the bateyes, but the basic ecclesial communities remain vibrant and filled with hope for the future. Your support helps us to proclaim that, with faith in Christ, everything is possible.
This story was originally published in Missionhurst Magazine. For the complete article, along with many others, check out Missionhurst Magazine.
Your spiritual and financial support allows us to minister to those in need, including those in these Batey communities. Want to learn more about how you can help?