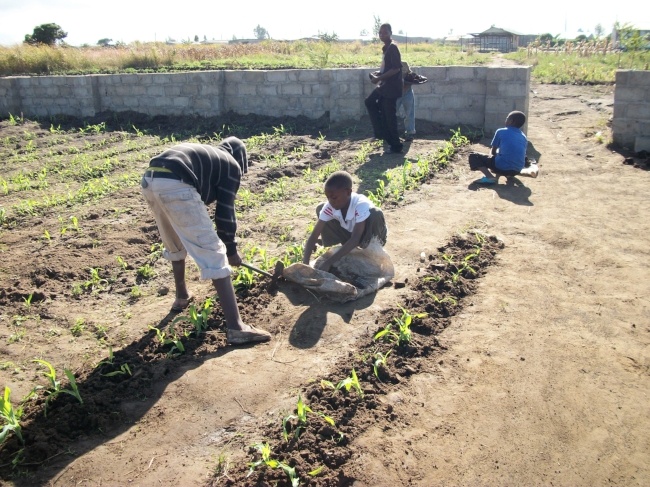 Zambia does not make it into the evening news in the United States very often. In part, this is because unlike most of its neighbors, Zambia is politically stable in that it has avoided the war and social upheaval common to African countries in postcolonial times. This political stability is sadly not the whole story when it comes to the state of our brothers and sisters in Zambia: a majority of them are living in poverty and disease and are malnourished and undereducated. Our Missionhurst priests are present in Zambia precisely because of this immense need for aid. Today, we would like to share five ways you can make a difference in the lives of our fellow Zambians.
1. Pray for the victims of human trafficking in Zambia.
Although Zambia does not keep extensive official records of human trafficking statistics, we know that it is a source, transit, and destination country for traffickers--including those who traffick children. Due to the high incidence of HIV/AIDS, many children are orphaned at a young age and left to fend for themselves on the streets. Sadly some families are even forced to facilitate the exploitation of their children or relatives out of desperation for financial assistance. And while the Zambian government is working toward full compliance with the minimum international standards for the elimination of human trafficking, it's a slow process, and the victims of trafficking--and those who work to help free them from slavery--are in need of your prayers.
2. Support efforts to improve healthcare, especially for children and HIV/AIDS victim
s.
Here's a statistic that is difficult to wrap your mind around: 14.3% of the Zambian population or 845,000 people between the ages of 15 and 49 are living with HIV and AIDS. Amongst urban young women in particular, infection rates reach 22% by age 20 to 24. An estimated 40,000 babies are infected annually, the majority dying before the age of five. Unfortunately, the scale of this problem combined with Zambia's lack of financial and educational resources means that many Zambians never receive adequate health care. Your financial support of NGOs and nonprofits who are working to fill in the health care gaps for children in Zambia is indispensable to their survival. In addition to Missionhurst's work with Zambian orphans and rural poor, we also encourage you to support other organizations such as Catholic Relief Services, Children International , and UNICEF.
3. Fast for poor Zambian families who have to choose between sending their children to school or putting food on the table.
The average Zambian adult lives on less than $1 a day and 64% of its population currently lives below the poverty line. For many children, this means that their families have to keep them home from school in order to keep their farms functional. The distance between many villages and the nearest school, combined with financial need makes education seem like a luxury for many Zambians. This week, consider giving up a favorite treat (such as a trip to your local coffee shop) and offering the sacrifice as a prayer for these families.
4. Learn about Missionhurst's work with orphans in Zambia at the Sunflower Family Center.
Fr. Pierre Ruquoy, CICM is the founder of the Sunflower Family Center, a community of homes that provide food, clothing, shelter, education, and emotional support for children who are orphans of HIV/AIDS. When the Center was founded, it was only able to serve five orphaned boys; today, there are over 100 orphans living at the Sunflower Center. The missionaries and volunteers at the Center do incredible work with these children, but there is still a need for more material and spiritual resources. We encourage you to take a moment to read a bit more about the Sunflower Family Center and the work that Missionhurst is doing in other parts of Zambia.
5. Share this post with a friend.
Many Americans are only vaguely familiar with Zambia and have little to no understanding of its people's greatest needs. While sharing this post may not seem like a big help, only the Holy Spirit knows what kind of change it might spark. Please consider forwarding this to your friends via email, posting it on your favorite social media outlet, or simply sharing what you've learned with your friends and family next time you see them. At the very least, more Christians will become aware of the needs of our brothers and sisters in Zambia and begin the transformative work of intercessory prayer for them.
We can all help make a difference in the lives of our brothers and sisters in Zambia today! Learn how to get involved.